Coronado National Forest Restructuring

---
The Coronado National Forest is restructuring its Developed Recreation Program.

Costs to operate, maintain, and replace developed recreation facilities exceed current and projected revenue. Revenue to manage developed recreation includes both federal budget allocations and fees, which represent about 50% of the allocated budget for the developed recreation program.

The Coronado is looking at a combination of four strategies for restructuring: Elimination developed sites; Transfer management to partners/concessionaires; Increased fees; Increased fee sites.

Of the Coronado's 204 developed recreation sites, 78 are fee sites. An additional 31 developed sites with similar amenities as the 78 fee sites are potential fee program recreation sites. This includes Kentucky Camp.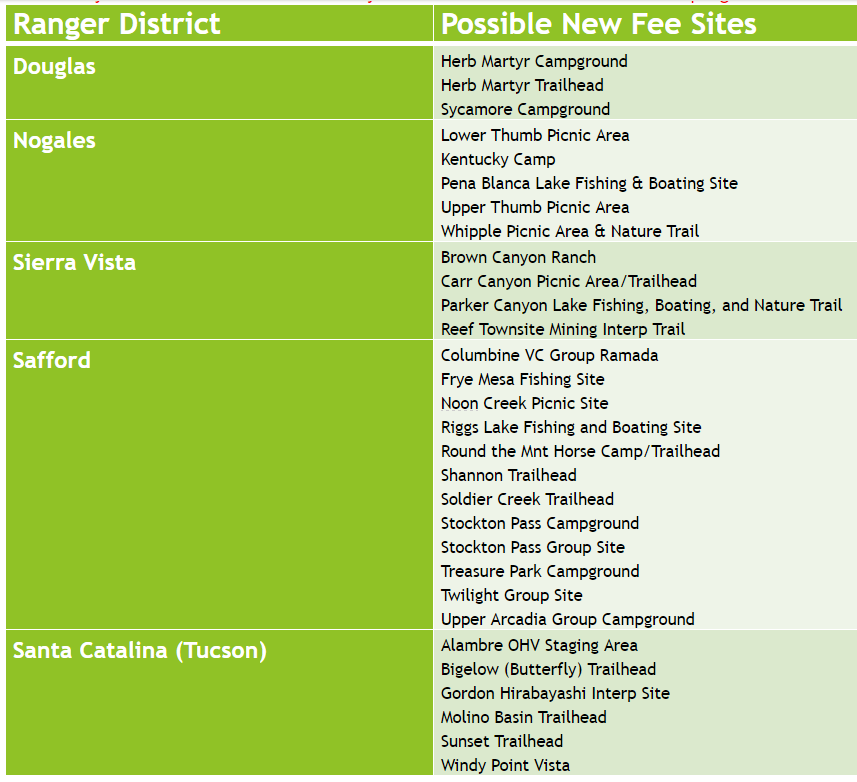 Between September 2016 and September 2017, the CNF plans to engage partners and members of the public to craft effective strategies to close the gap between the costs and revenues of the current and future developed recreation program.
Based on public comment, the CNF will propose actions to restructure the developed recreation program.
Please visit the Coronado National Forest web site for an overview of this proposal: CNF Fee Proposal Website
From this page, near the bottom, you may click on "View a Map", showing existing recreational sites. (Kentucky Camp is a Blue dot). On this page is text that reads:
"Add Text Comment" which will take you to a form for your comments.
Please let us know if there are any questions about this.